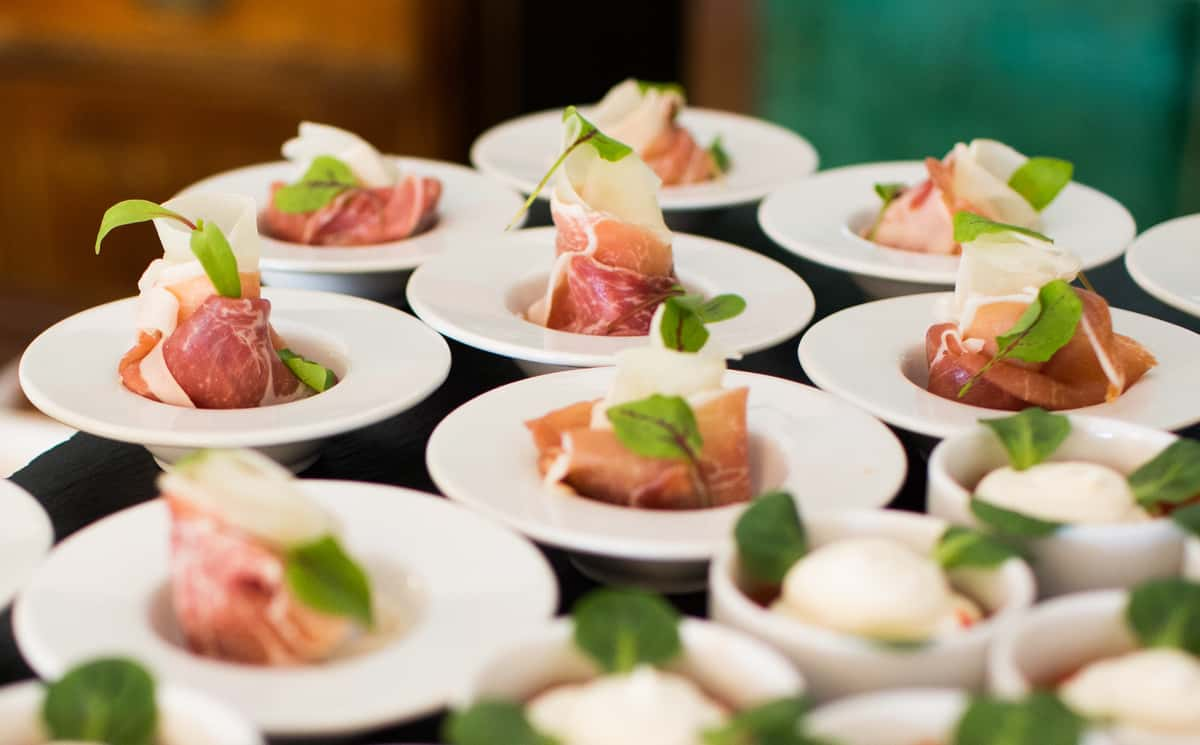 Catering Policies & FAQs
Menu selections are to be finalized no later than (30 days) prior to your event date. FirstClassCateringService Inc. focuses on food sourced locally to the region of your event and must have time to do so in order to guarantee the freshest and cleanest sources available.
Deposits & Guaranteed Minimum Guest Count
Your cost sheet will reflect a guaranteed minimum guest count. Your non-refundable deposit secures your date and our services and is based on the guest count. Your minimum guest count is not eligible for a reduction in guests after thirty days (30 days) from the wedding date. You will be responsible for 100% of the Guaranteed Minimum Guest Count. The security deposit is due upon acceptance of your cost sheet and menu. This Deposit covers planning and hiring.
After reviewing your cost sheet and customized menu, we are happy to schedule a tasting with you and one guest to finalize food selections, beverage and and event details. If you confirm your menu and cost sheet, with the deposit secured the tasting is on us. If you choose to not retain FirstClassCateringService Inc for your event, you will be responsible for the cost of food and labor to prepare it. We will provide an itemized invoice for your tasting. Tastings do not secure days of events.
A non-refundable deposit is due upon acceptance of your cost sheet and menu to secure your date and our services. Final payment is due 30 days before your wedding date. Any discount offered for client-supplied labor will be made on your cost sheet prior to delivery of your final invoice. FirstClassCateringService Inc. allows clients to incorporate their own labor for set-up and clean-up and will serve to reduce the labor cost for your event. FirstClassCateringService Inc. accepts payment via personal or corporate bank check, wire transfer (including wire transfer fees), or cashier's check. (including any fees), or legal tender cash. If none of these payment options are available to you, we will accept payment by all major credit cards (including any fees).
FirstClassCateringService Inc. has vendor accounts with all major rental companies and we can provide you with a rental quote based on your event requirements. Unless otherwise arranged, the client is responsible for accepting the delivery of the rentals at your event location. Depending on rentals that are being ordered there can be a Gratuity/Handling Fee on discretion from FirstClassClassCatering Inc. 
Outside Food & Beverage Additions
The client is welcome to provide family-made specialty menu items and desserts, specialty mixers, and client-purchased beer wine and alcohol
This initial hiring deposit is nonrefundable for all catering events. Which includes the following examples Weddings, Corporate, 
Private, Birthdays, Anniversaries, Etc. This deposit is determined based on the date of your event and when we are hired. All event payments are structured differently per contract. 
Service Charges & Gratuity
All Pricing is subject to a Gratuity and Service Charge. Includes all meetings, site walk-through, rental arrangements and updates, and administrative costs acquired throughout the planning process of your event. It is based on the food and beverage estimate. The Service Fee is not a gratuity. Additional gratuity is at the discretion of the client. The State of California requires that the full invoice be taxed, including labor, service, and gratuity.
FirstClassCateringService Inc. rejects the notion that excess food that is NOT exposed to guest contact is waste. The client is welcome to all leftover items that have not been plated or presented at your buffet. FirstClassCateringService Inc. will utilize the client's appropriate plastic, aluminum, paper, or glass storage containers. Arrangements can be made to donate food not exposed to guests.
Recycling, Garbage, and Food Waste
FirstClassCateringService Inc. will recycle bar glass, and any recyclable items, and compost food waste from plates as well as compostable items. We will also bag garbage for deposit into the client's home waste receptacles or remove it for disposal off-site. Arrangements must be made in advance for the appropriate handling of waste. For large events with over 200 guests, a waste service fee will be assessed that is fair and equitable.